Thousands of students attend Rochdale Skills Event
Posted by on 2 Mar 2015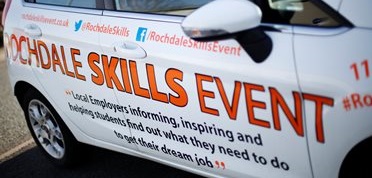 Over 2,000 Year 9 students from across Rochdale attended the third Rochdale Skills Event, held at Heywood Industrial Estate on 11th March, in a 25,000 sq ft unit transformed for the day.
The aim of the event was to showcase a wide variety of careers with exhibiting businesses providing advice and hands on experience.
Businesses who attended, giving generously of their time, included Source BioScience, BBC, Key 103, Automotive Academy, KP Industries & BMW Rochdale.
Councillor Carole Wardle, the Mayor of Rochdale, said "It's absolutely fantastic. It's great to see all of the young people so eager to get involved and find out more about things and the technology that is available to them these days. It is a great event."
The event was also attended by MP Liz McInnes (Heywood and Middleton) who commented: "I think it is absolutely brilliant. This is a great event to get our young people thinking about their futures. It is a great idea. There are things here that I certainly wouldn't have thought about doing at their age so it is nice to see all of these opportunities for them. I would love to see it continue."
For the 13 and 14 year old students, choosing their GCSE options, the Event gives them chance to try their hand at completely new challenges and experiences, from sport science to crime scene investigations.
Commercial Contract Engineers (CCE)/Fix Auto Rochdale, a major driving force behind the annual event, was this year backed by Car-O-Liner and S&B Automotive Academy in highlighting the career opportunities within the accident repair sector.
Phil Ewbank, chairman of CCE/Fix Auto Rochdale, said, 'The event proved another major success and I would like to express my gratitude to Car-O-Liner and S&B Automotive Academy for their fantastic support and commitment. We have forged a great relationship with both organisations since making contact in 2014.'
The accident repair activities on offer included the ever popular Pit Stop Challenge, which offered iTunes vouchers for the fastest male and female, as well as Miracle Pull demonstrations, plastic repairs, interactive flatting and polishing processes along with paint refinish samples.
Further coverage can be found here:-
http://www.rochdale.gov.uk/latest_news/featured/year_9_pupils_skills_event.aspx#sthash.nc5beRXB.dpuf
http://www.rochdaleonline.co.uk/news-features/2/news-headlines/94692/rochdale-skills-event-showcases-career-opportunities-to-thousands-of-students
https://www.facebook.com/RochdaleSkillsEvent