Tetrosyl produce range of sanitisers to combat Covid-19
Posted by on 7 Jul 2020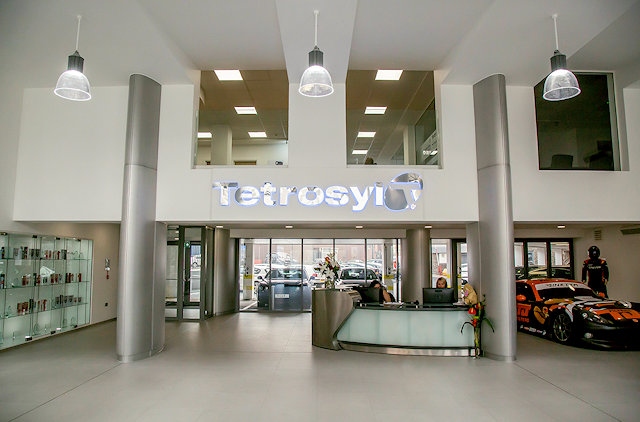 Photo © Rochdale online
Rochdale-based manufacturer Tetrosyl has produced a new range of cleaning and sanitising products in response to the Covid-19 pandemic.

Tetrosyl is the largest producer of car care products in Europe but transitioned into manufacturing antibacterial cleaners to help homes and businesses stay virus-free as the UK gradually emerges from lockdown.

It took less than two months to produce the new range and was only possible after the 2019 acquisition of James Briggs, which is one of the region's oldest and largest consumer chemicals businesses for an undisclosed sum.

The new range - sold under the Nilco brand – belonged originally to James Briggs but has been developed by Tetrosyl and includes antibacterial multi-surface cleaners, fabric cleaners and car sanitisers. It also includes a powerful hand sanitiser, something which is still in short supply in some areas of the UK.

Tetrosyl moved into its new headquarters in Rochdale in 2016. The company's main distribution centre is in Castleton, employing around 250 staff across both sites. Its main manufacturing facility is in Bury.

David Rogers, group general counsel for Tetrosyl, said: "It's important to be agile and we recognised there was a global shortage of sanitisers. Normally it would take a year or so to produce a new range so to be able do that in around two months is remarkable.

"The acquisition of James Briggs significantly increased our manufacturing capacity and when Covid-19 hit, we realised we could use that capacity to produce a range of cleaning and sanitising products that were effective against the virus.

"It's testament to the skill of our team that this innovative and exciting new range has been created, tested and produced in just a matter of months. The orders are already coming through and the potential is huge because we have the ability to produce in bulk quickly."

Mr Rogers said Rochdale was the perfect place to base a business because of first class transport connections and skilled labour pool.

He said: "Our move to Rochdale has provided enormous benefits both in terms of cost to the business and benefits for our staff. We have acquired a fantastic building for an extremely competitive price which has enabled us to free up resources to further expand the business.

"Rochdale also has an excellent transport infrastructure which is important from a recruitment perspective and the recent improvements to the town centre make it an attractive place for our staff to enjoy during breaks from work".

He said the company had learnt a lot of lessons from the pandemic.

"It really made us focus on the eCommerce side of the business," he said. "It was something we were working on but this accelerated it and ensured we got our offer right. We've got a lot slicker because we've needed to.

"All of the new range is available for bulk purchase by businesses and public sector organisations. In addition, everything is available for delivery direct to consumers at trade prices."