Rochdale company to collect £1.4m ticket to growth
Posted by on 2 Feb 2015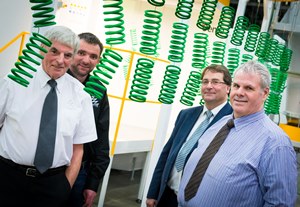 Successful Rochdale business Hanson Springs is celebrating after scooping £1.4m* from the Government's Regional Growth Fund in a move which will create 36 new jobs and cement their global reputation as one of the leading coil spring manufacturers.
The family firm, which supplies springs to oil refineries, offshore and onshore rigs, pipelines and power stations across the world, has been in business in Rochdale for more than 50 years.
The company already employs more than 200 people, most of whom are from Rochdale borough, but plans to use the £1.4m to help fund a 30,000 square feet expansion at its Gorrells Way site, which will create around 36 new jobs.
Hanson Springs will also invest in new machinery to help it produce bigger springs, meaning it will eventually be able to produce the world's largest springs. Currently only a handful of companies in the world produce larger springs than those produced by Hanson Springs.
The total cost of the proposed expansion and new machinery will be around £7.2m.
John Hanson, Director of Hanson Springs, said: "We use local companies as much as we can and Rochdale has served us very well in this respect. We have a fantastic manufacturing and engineering base here, which we have really been able to make good use of. We have found Rochdale a great place to do business. All our apprentices come out of Rochdale Training Association and most of our staff come from the borough. Myself and my dad travel all over the world for our work and there's nowhere we'd rather live. We're thrilled to get this money and are looking forward to benefitting our business and creating new jobs and opportunities in the borough as a result."
Leader of Rochdale Borough Council, Richard Farnell, said: "Hanson Springs is a real Rochdale success story. It's a company which started more than five decades ago and has been expanding and innovating ever since. It's great to see this kind of money coming into Rochdale and the investment and jobs it will bring will be a fantastic benefit for the borough."
Hanson Springs is one of 14 North West companies to be awarded money from the Regional Growth Fund this time round. The Government's Regional Growth Fund (RGF) has invested nearly £3 billion to help businesses in England to grow; so far generating over 100,000 jobs.
56 new awards in Rounds 6 and seven through exceptional RGF support were announced on 12 February 2015, giving £297 million to 63 projects and programmes to create and safeguard thousands more jobs and unlock an additional £1.5 billion of private sector investment.
John Hudson, CEO of Rochdale Development Agency, said: "We are proud to have strong and growing manufacturing companies like Hanson Springs in Rochdale and we are pleased at being able to support such local companies with their relocation and growth plans. Creating 36 new skilled jobs and safeguarding a further 200 skilled jobs as part of Hanson's commitment to training staff and apprentices is great news for the future of the borough."
Hanson Springs is set to submit a planning application for its proposed expansion within a month, with work set to be completed by next spring, if the application is approved.
*Subject to due diligence