MysonPages Conquers 3 Peaks
Posted by on 12 Aug 2022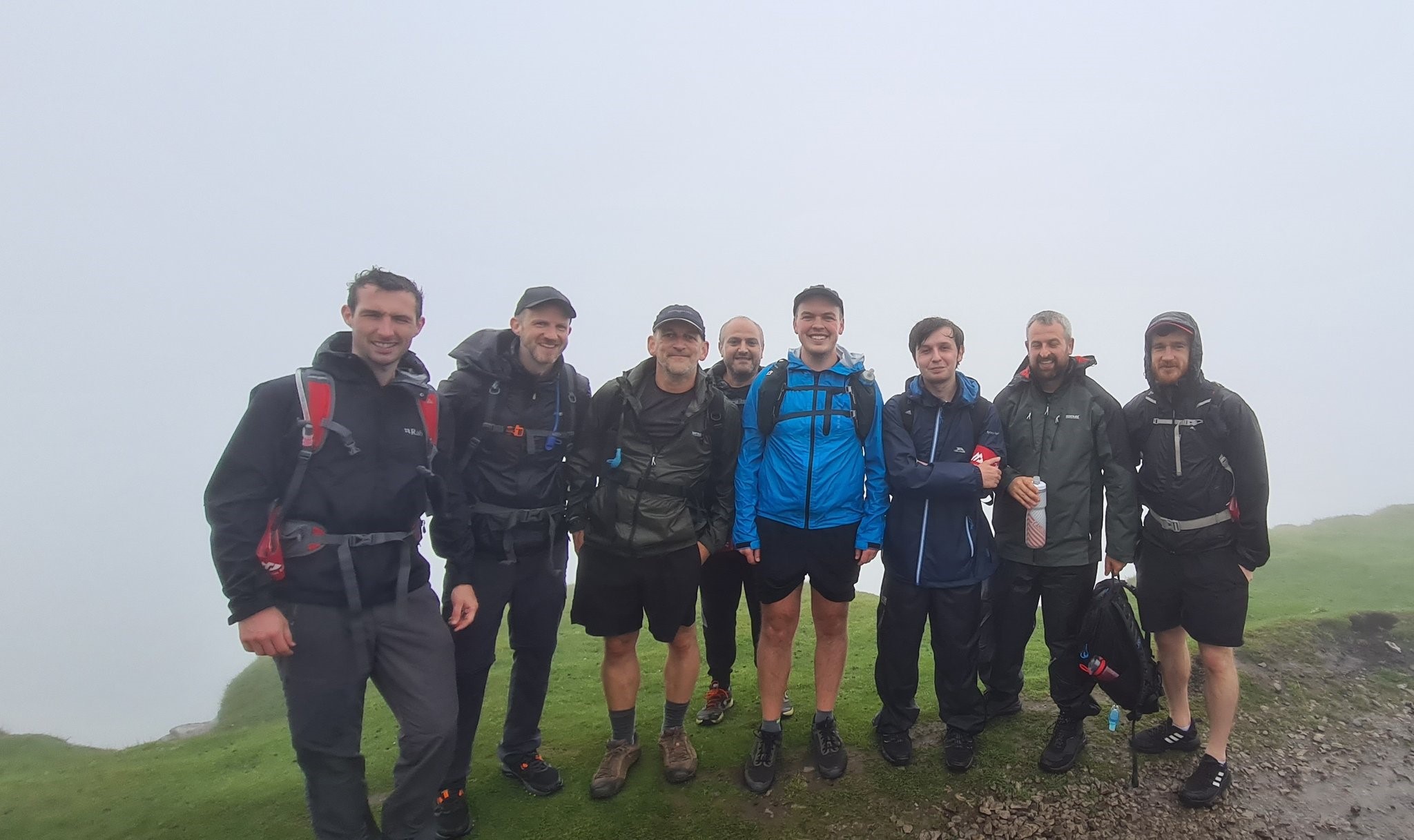 The Rochdale business picked the wrong day to scale the Yorkshire Three Peaks, but still made thousands of pounds for a great local cause
Rochdale IT specialist MysonPages is the kind of business that likes a challenge. But in its day-to-day experience, trials tend to arrive in the form of lost connectivity, managing cyber threats and keeping their customer base happy.
It was a different kind of test that awaited six members of the MysonPages team as they set off to conquer the Yorkshire Three Peaks challenge at the end of July. Zen Internet Chairman Richard Tang - MysonPages is a Zen partner - was also in the group that day.
The team was expecting a tough but pleasant hike on a midsummer day. Success would involve walking 24 miles and climbing 5200 feet in under 12 hours.
That's a challenge, but a very do-able one for a team that had spent the last few months completing regular walks on the moors around Rochdale (even if a couple of the walkers "hadn't walked past the cafe" up until then).
They also had the extra motivation of a really good cause. The walkers would be raising money for Rochdale's Springhill Hospice.
And they did it. Every member of the group completed the walk. MysonPages managing director David Brereton says that doing so "gave everyone a huge sense of satisfaction - it was a great achievement."
And it really was. Business development manager Jack Lyons talks about everybody chatting and laughing as they set off, and "the sense of a plan finally coming together." It's fair to say that the holiday atmosphere didn't last long.
To cut a long story, MysonPages picked what was probably the worst day of the summer to attempt the Yorkshire Three Peaks. The rain started early and didn't stop. On the tops, visibility dropped to 20 feet. At one point, the walkers were up to their shins in muddy water.
"At one checkpoint our colleague was asked if he was OK because he had a blue face," says Jack. "Visibility wise, it was like walking miles and miles into fog. We heard the guides say that it was in their top five worst conditions for doing the walk."
David adds: "I reckon it was twice as hard as a normal day. We all ended up with neck ache, because you spent 12 hours looking down at your shoes. By the end there was no real difference between the inside of your waterproofs and the outside."
Cold, soaked and exhausted, but the team agreed that it was all worth it. So far, they've raised just over £6,000 for Springhill, four times more than their original target. The JustGiving page is still taking donations here.
"The money we've raised has been sensational," says David. "But the best bit has been seeing how it impacted people in the team, and them recognising their personal achievements. We're a good team, but this has cemented it."
Would they do it again? "There's already an assumption that this won't be a one off," says David. "We've just got to find out what we can do next."
Jack adds: "There's a chance we might do even more next time, maybe over a few days. But it would also be good to get more of the team involved. The good thing about doing this challenge again is that it would be really hard for the conditions to be any worse!"
Did they peak too soon? Well 24 hours later, it was glorious…
Here is the full video of the walk