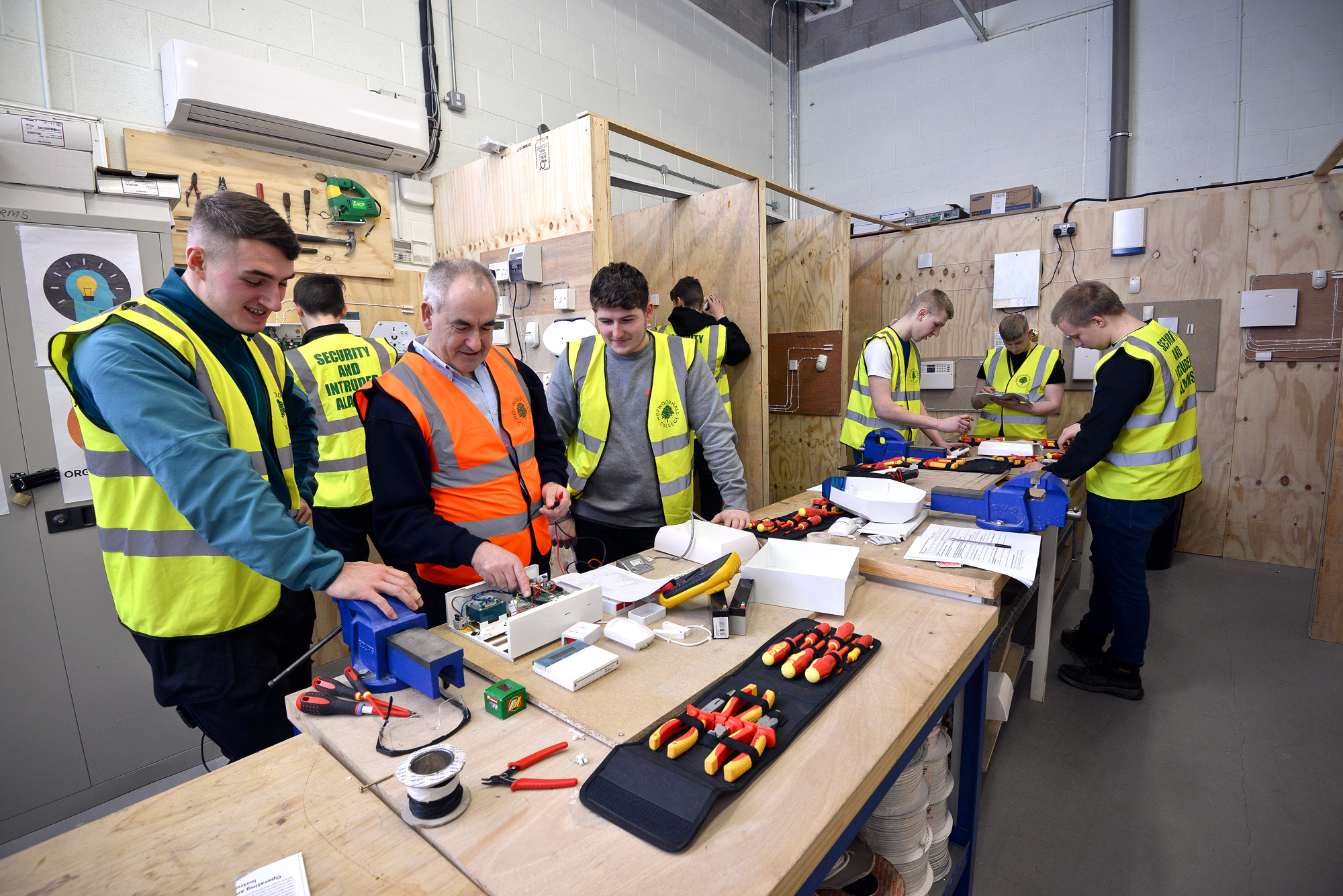 Hopwood Hall College
Over the next two years, Hopwood Hall College will spend around £4 million of capital investment on new facilities, equipping classrooms and workshops with the latest technology in a wide range of curriculum areas. That includes plans for investment in Fire, Emergency and Security systems, but this isn't technology to protect college property: it is equipment to help prepare students for careers in a booming local industry sector.
"We have to keep up with technology, so that our students have the up to date skills that employers are looking for," says Julia Heap, Hopwood Hall's vice principal. "Fire, Emergency and Security Systems is an increasingly important high tech industry in this region, and we are now the North West's leading provider of relevant education."
This is, in a nutshell, what Hopwood Hall is all about. It works with local industry and organisations like Rochdale Borough Council and Rochdale Development Agency (RDA) to design courses that really work, both for students in the town and the economy of Rochdale, Greater Manchester and the wider North.
Julia says: "We work with outside bodies like the RDA so we know which employers are moving into the area and what they might need, and we also monitor where our learners go when they leave us, and shape our curriculum accordingly. Our role is to make sure the courses we offer meet the needs of students and of industry, in Rochdale and the wider region. If we identify skills shortages, we try to help."
Which is where the new focus on Fire, Emergency and Security Systems comes in, with 12 apprentices from firms across Greater Manchester and West Yorkshire starting this week. Hopwood Hall saw a local need and, with the support of local businesses, worked to address it. The college has invited employers from the sector in to discuss future developments, opportunities and partnerships.
Hopwood Hall has been feeding skilled students into the local labour force for over 25 years, from campuses in Middleton and Rochdale. Today, the college offers over 200 vocational courses to around 7,500 students every year, from engineering, construction and IT to health and social care, sports science and trades. It offers apprenticeships and skills training from Level 1 to Level 3 and HND, for 16-19-year-olds and adult learners. Students progress to industry and into Higher Education.
It has achieved significant success. Hopwood Hall is in the top 10% of FE colleges in England for Level 3 progress, and last year achieved a 100% pass rate for 124 of its courses. Another measure of success is the number of students who quickly find jobs in the local public and private sectors.
That is down to its keen focus on what local employers need, and creating a curriculum to meet those requirements. To ensure that continues to happen, the team at Hopwood organises employer events, round tables and talks. The college recently hosted a major Shape the Future of Skills conference, attended by Mayor of Greater Manchester Andy Burnham, local MPs Tony Lloyd and Liz McInnes, and over 60 of the area's largest employers.
That work will only continue as the college gears up for the introduction of the new T-level qualification in 2020, a technical qualification that has parity with A levels. This will increasingly be an employer-led curriculum, but Hopwood Hall is already ahead of the curve. All 16-18-year-old learners on its courses have to do a significant work placement every year.
"Making our students employable is absolutely crucial," says Julia. "We run a tutorial programme that enables learners to focus on their employability skills and CV writing. It is run alongside the careers team who liaise with employers for work placement opportunities and provide students with bespoke advice and guidance."
It all adds up to a high performing FE sector in the town - Hopwood works with Rochdale Sixth Form College to ensure high quality academic and technical education go side by side - that is sharply focused on helping industry thrive by producing potential employees with the skills it needs. By doing so, it helps to make Rochdale Borough an attractive target for business investment.